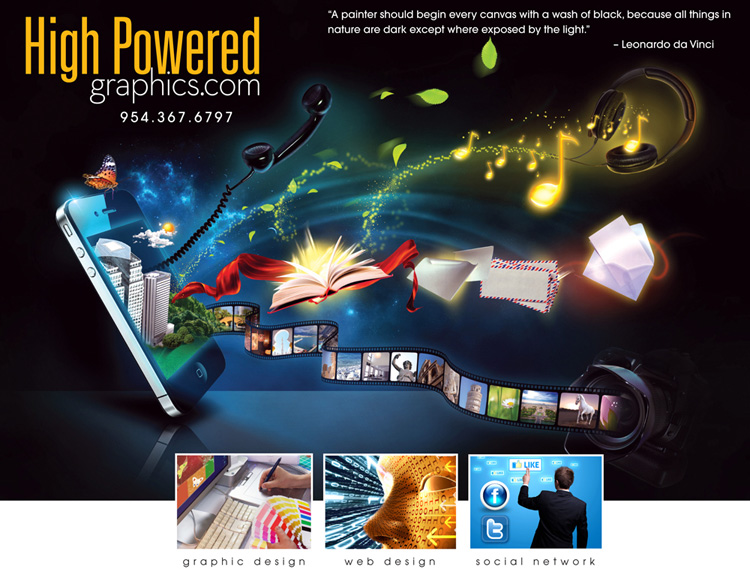 Web Design Development Miami Fort Lauderdale Florida. If you need a reliable source for your online needs look no further. High Powered Graphics, located in Hollywood, Florida is your one-stop design company in the South Florida online market. We serve our clients throughout all of Florida and nationwide. Our reputation follows us where we go. Our company started back in 2009, however, our designers are seasoned and with much experience since the mid 1990's when the internet industry started booming.
As a business owner you are always looking how to save money and make your business profitable. When it comes to creating an online presence for your business, just like your marketing materials and office's appearance, your website needs to project a professional image. The more professional looking your business appears, the more creditable it looks.
When deciding if a custom web design is the way to go or if a website template is a better choice keep in mind that you want your business to stand out from the crowd and be memorable.
By going it alone you are still going to have to do some work to get up there in the search engine results and spend 3 times the amount of money. Having a website that looks nice is only part of the internet marketing package. You will have to research the phrases that your target audience would type in the search box to find you then incorporate those phrases into the content of each of your pages.
To maintain or build the website yourself you are going to have to invest some time (and money possibly) into learning all there is to building a web page. 
High Powered Graphics now services the South Florida business community (Hollywood, Fort Lauderdale, Hallandale, Aventura, Palm Beach, Delray, Miami, Florida). We provide updated Mobile Web Design, Internet Marketing and a full range of SEO services. We drive traffic to existing websites as well as create new updated mobile device ready web designs.
Call us today and we will be happy to assist you and answer all of your questions.
HIGH POWERED GRAPHICS
4200 Hillcrest Dr. Hollywood, FL 33021
954-367-6797
(By appointment only)