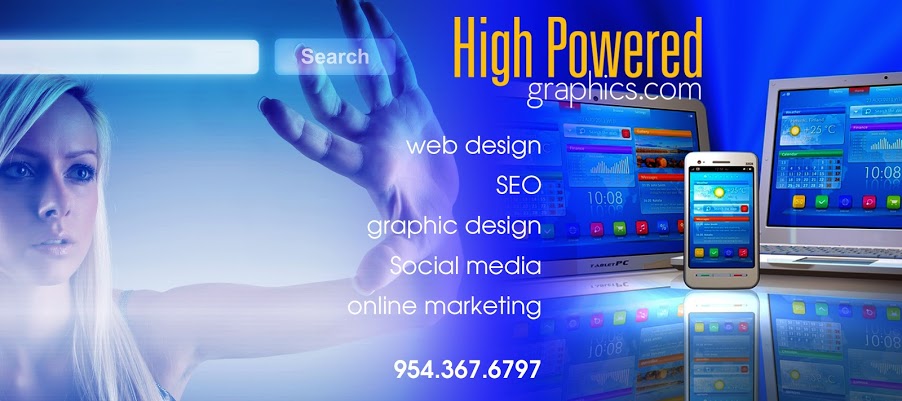 Web Design Experts South Florida Broward County. Let the professionals with more than 20 years experience show you what we are capable of doing for your business solutions. Call today: 954.367.6797.
Is your business listed on the internet? Do you have a website and if so, is it appearing in the top search results?
In today's ever changing technological marketplace the key to success is being found first before your competitors. At High Powered Graphics we take pride in making that happen for our customers. From custom graphic art , website design and development to internet marketing, we are a one stop multimedia company.
Do you already have a website that is outdated or performing poorly? Do you need a competent team to create and manage your blog, twitter or facebook marketing campaigns? Can Google adwords help your company? Do you need a new look, logo or branding for you business? If you are asking yourself these questions call us at:
954.367.6797
At High Powered Graphics we have a perfect and affordable solution for promoting your small local business or marketing your large corporation to the world wide community.
I find that people who sign up for these free template building websites are the ones who suffer this the most. The ads look great for free website places like Web.com and Wix.com but remember the phrase 'You get what you pay for" before wasting your valuable time with these companies.
So basically what I am trying to say is. HIRE A PROVEN WEB DESIGNER! Just like everyone with a camera is now a photographer, everyone who can insert text here or insert photo here on a website builder program thinks they are a web designer. How can you tell a professional designer with knowledge of the SEO (black arts) from the others? That's easy, Google their work!
Ask to see a website they designed and google the products and services, not the company name or the domain name. Why? Mainly because company names as well as domains are exclusive and pop up by default. This is an old amateur web designer trick. Pretend you are a customer that has never heard of the company before.
Let's take one of mine for example.
Click to FloridaRoofCoatings.com then go to Google and begin entering terms relating to the business, products, services and location just like a potential customer having no clue who to call such as " roof coating companies in florida  (#1)" or your specific town or city such as  "commercial roof coating company dania florida (#1)" switch to "residential roof coating company fort lauderdale (#2)" as you can see with knowledgeable correct search engine coding you can rank well and not have to pay for adwords. If your guy's sites can't do this, walk away and call me. You can link to any of my websites and do this process.
So in conclusion, when I need a tooth pulled I go to a Dentist. When I have a leak I call a Plumber. When you need a website why would you go to that friend of a friend who builds websites down the street or try to do it your self? Call me. I am a Web Designer!