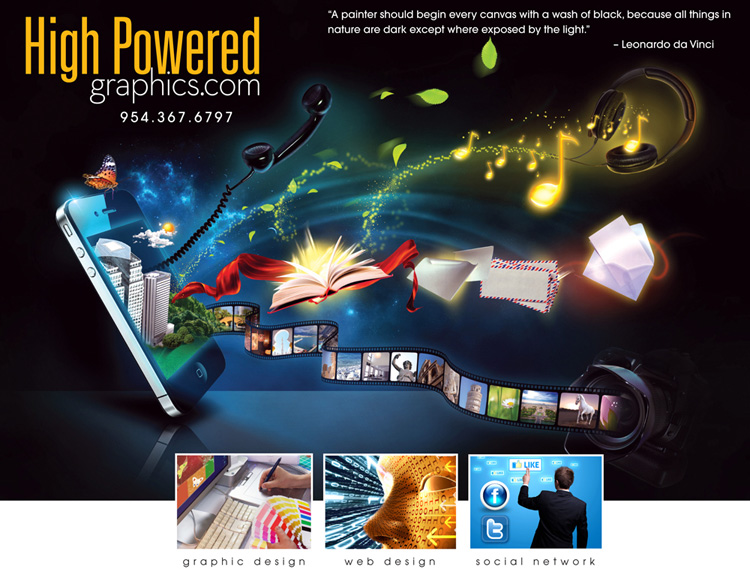 Graphics Web Design South Florida Hollywood Hallandale. From custom graphic art , website design and development to internet marketing, we are a one stop multimedia company. High Powered Graphics is a company run by experts in the field of internet marketing and technology. We are a veteran owned web and graphic design firm located in Hollywood Florida. Whether you are a small or large business in need of online presence, promotional material such as brochures, catalogs, or company branding, we are the company to hire.
High Powered Graphics' president and Art Director Mr. Leon Cortez has 20 years of design experience and will help you provide solutions to your graphic design needs. He is also a web development expert and will work closely with you developing the online presence you seek. We preserve your brand and identity by offering custom web design and layout.
High Powered Graphics now services Hollywood, Hallandale, Pembroke Pines, Fort lauderdale, Palm Beach, Miami Dade and all of nationwide. We provide updated Mobile Web Design, Google Adwords campaigns, Internet Marketing and a full range of SEO services. We drive traffic to existing websites as well as create new updated mobile device ready web designs.
Call us today and we will be happy to assist you and answer all of your questions.
954-367-6797
Most people believe a brand consists of only a few elements, some colors, fonts, slogan. A brand is your corporate image, what your target audience will be. Every corporate image should reflect the values and goals of the business as a whole. High Powered Graphics will work with you, we want to know what colors you like, what fonts or what visual effect you are trying to accomplish for your target audience. We are not just great designers and artists; we are visionaries who are always thinking outside the box and want to bring those ideas to life. High Powered Graphics works had but we love and enjoy what we do. Give us a call at 954.367.6797 and we look forward to setting up an appointment with your company and show you what we are capable of doing when you put the best to work for you. "
VETERAN OWNED